What is systems integration?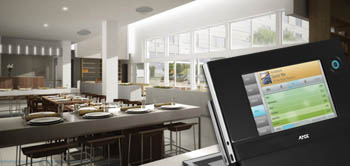 For us, this is about joining together the various systems in your home so that they work together to give you greater control of your environment and more information about what is going on in a way that makes your life easier.
We believe that a control system, such as those from AMX© and Crestron© should be easy for anyone to use, not just the person who programmed it. We pay close attention to the design of the touchpanels we sell and test them on a wide range of people, especially those who are not technically inclined. The end result is something easy to use, tailored specifically to your needs. We can also go that extra mile by adding in live weather updates, share tickers, and RSS feeds from your favorite websites, should you wish it.
What else?
An AMX© or Crestron© automation system can control your HVAC, your lighting, your entertainment systems, security system and even your door entry intercom. Feedback and control of all of these can be displayed on any number of touchpanels throughout the house.